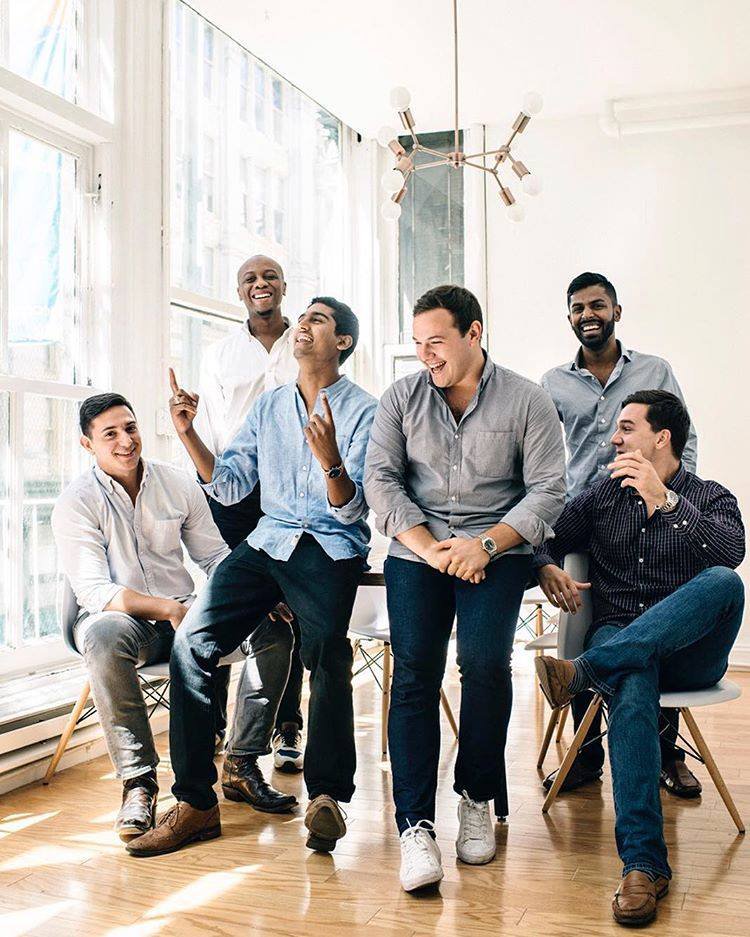 Today we're thrilled to announce our investment in LoftSmart. LoftSmartis the first transactional marketplace for off-campus student housing. Students can seamlessly discover, compare, collaborate (with each other and their parents), and sign rental leases all on the same platform.
As co-founders Sam Bernstein and Sundeep Kumar eloquently put it, "Our mission is simple: A perfect place for every student".
We first came across LoftSmart out of Angelpad's Spring 2016 Class, and quite frankly, were not interested based on the initial description. While the concept was within our "real estate" thesis, our ignorance around the "niche" market size ($130B+) and the new problems being created by its growth over the past 5 years (a.k.a. since we graduated college) made it a pass.
However, about 4 months after demo day we received an email from our friend Weston Reynolds, a Series A investor at Greycroft. In it, Weston mentioned a real-estate related startup, co-founded by a compelling UVA dropout (Weston's alma mater). We don't recall the exact quote, but it was something along the lines of "Even if you don't invest, you need to meet this kid." Based on that recommendation we decided to check them out.
We met with Sam and Sundeep on Thursday, June 30th 2016 at 5pm and immediately recognized that there was not only something particularly interesting about the LoftSmart; but more importantly, there was something very special about the founders. Following an initial meeting that was slotted out for an hour and lasted nearly two, we decided to diverge from our standard process and have the Founders in the next day for a follow up meeting.
With less than a week before our chairman was headed out of town for a couple weeks, Jason and I stayed at the office until midnight doing research and putting together a brief version of an investment memo. The next day Sam presented to the team (including David via a beme) and we walked away with two thoughts.
These kids are special.
We really need to understand the Student Housing Market.
Over the next month we proceeded with dozens of follow up meetings — including "whiteboard brainstorming sessions" (both internally and externally), late night calls/texts with the founders, surveying +100 current college students, 2 cases studies on large college towns, and conversations with numerous Local and National student property owners. The deeper we dug, the more compelling the story became…And we dug deeper than almost any seed deal we've done (P.S. thank you team and co-investors for reading through our 16+ page investment memo)
Ultimately, here are the reasons we invested in LoftSmart:
TAM
Annually, $130bn worth of student rental leases are transacted in the US representing 18M college students who live off campus — According to US News & World Report. Over the past few years, there has been a substantial uptick in investment activity in the student housing market fueled by both domestic and foreign investors. In 2015, an estimated $4.5 billion was poured into student properties, up from $3 billion the year before as investment appetite for recession-resistant assets grows. Specifically, in the first quarter of 2016, a record $2.6 billion in capital poured into the sector, marking the largest single-quarter investment since 2006. With the number of student housing alternatives rapidly growing, competition amongst buildings has been making it harder to achieve ~100% occupancy rates.
Generation Z Expectations of Technology
Initially, LoftSmart was created as the "Yelp for real estate" within local college markets to ensure that students could leverage the knowledge of those who had come before them. By bringing existing peer-to-peer recommendation networks online for the first time, they were able to generate 20x more reviews than Yelp and build trust within the college demographic (p.s. this showed us how much these guys could hustle as well). Meanwhile, this was a brilliant beachhead into the supply side of the market. What began as conversations to remedy bad reviews, have now transformed into partnerships with some of the country's largest purpose-built student housing developers & management companies.
Now, LoftSmart has built a collaborative, frictionless, and full service platform tailored to meet the demanding expectations of Generation Z. College students can discover, compare, and fully process a rental lease in coordination with both their roommates and their parents. With features such as crowd sourced reviews, real-time credit checks/background checks, drag-n-drop file storage, amongst others, LoftSmart is redefining the User Experience of Student Housing Rentals.
It also didn't hurt that the Founder experienced the pain point first hand. Which honestly, in this market, college aged founders are the best ones to solve this problem.
Market Timing
Real Estate, which has historically lagged behind other industries to embrace and foster tech innovation, is quickly catching up. In just the first half of 2016, real estate tech startups raised more than $1.8B across more than 100 deals — an 85% increase when compared to the same period in 2015. (CB Insights). We saw the first wave of real estate companies such StreetEasy, Zillow and other VC-backed startups redefine consumer behavior by creating the foundation of information transparency in the industry. LoftSmart is leading the second wave by offering even more key features that both address the complexities within Real Estate and the dynamics of the College Housing.
Real Estate:
· Real-time live inventory
· Back-end financial integration with Yardi, Realpage, Entrada, etc
· Secure payment processing
· Real-Time background and credit checks
College Housing:
· Verified peer reviews
· Roommate and parent collaboration
· Incentivized referral program
Team
While the dynamics of the student housing macro landscape presented a compelling story, we were most impressed with the co-founders, Sam and Sundeep — which was the driving force behind our investment decision. It's not too often that you come across 21 (He's now 22 in case you were wondering) and 24-year-old Co-Founders, with "ruthless execution and laser focus" — especially with no prior startup experience. They were methodical, results driven, and strategic in both their decision making process and long term vision. Sam, a UVA dropout and current CEO of LoftSmart is one of, if not the most polished and thoughtful 21-year-old entrepreneurs we've ever met. Sundeep, former Dell Engineer and current COO of LoftSmart, was described to us by his old boss at Dell:
"the most driven kid that he ever had work for him and that it didn't matter how much you threw on his plate, the kid wanted and could handle more. He excelled at all levels in the company, took on extra work from peers that was redistributed and handled large client negotiations, deployment and customer service."
Together, they had this yin and yang relationship that magically complimented one another and fortified a strong management team going forward. At Corigin Ventures, we are truly Founder first investors. While there's no precise mold, we value startup experience, intelligence, resiliency, hustle and domain expertise. Sam and Sundeep were just that, and we were convinced.
As former college Founders ourselves, we were honestly blown away by all the mistakes that we made that they were avoiding.
While it is still in the early days for LoftSmart, we look forward to our partnership with Sam, Sundeep, and the rest of the LoftSmart team as they redefine the student housing rental process and help college kids all over the US find a home during the best years of their life.