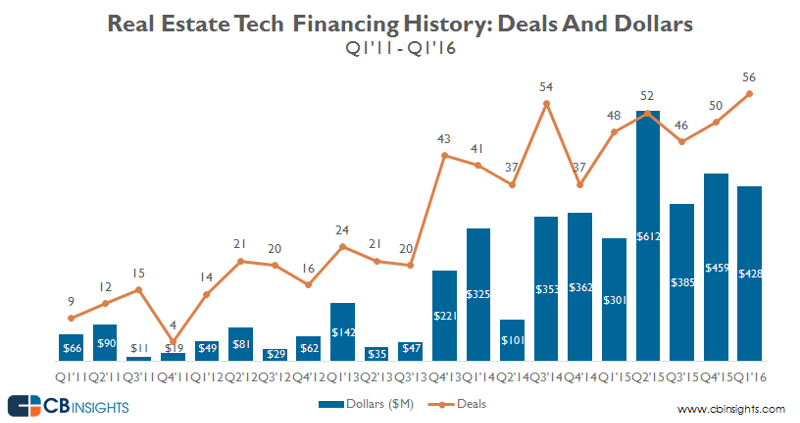 Innovation in real estate has lagged when compared to other industries in the past decade, not really seeing significant investment dollars going into the sector until late in 2013. Since then, there has been a pretty steady increase, in both total dollars and number of deals. Q1 of 2016 investments in RETech consisted of 56 deals (record quarter) totaling $428M.
While these overall numbers always need to be supplemented with some context, it just feels like the powder keg is about to explode. One of our two main focuses here at Corigin Ventures is Real Estate Technology (the other being Consumer), so we've had a front-row seat to the disruption. Not only have we made five investments into the space, but have 50+ people at our parent company providing consistent feedback into their problems and potential drivers of innovation. We're certainly not the only ones seeing the blue ocean of opportunity, so we've spent the past two years cultivating relationships with key stakeholders across the different layers of the industry.
For those seeking to accelerate their involvement, here's a cheat sheet of the leaders of this movement: (in no particular order, focusing mostly on NYC)
THE DISRUPTORS:
Co-founded by Ryan Williams and the Kushner brothers, Cadre has flown under the radar to outsiders (even the website is gated), but has raised over $68M since its founding in mid-2014 from top-notch and industry-related investors. The company aims to connect institutional investors with real estate deals in gateway markets.
Led by Adam Neumann and Miguel McKelvey, the co-working (and now co-living) giant has seemingly taken over NYC…and the rest of the globe. Boasting a $16B valuation, WeWork has a presence in over 28 cities across 9 countries, seemingly adding more every week.
Co-founded by Robert Reffkin and Ori Allon, Compass is a tech-driven real estate platform that puts technology at the fingertips of its agents and clients to streamline and transform the process of finding a home. Armed with $133M in funding, Compass has been able to attract the highest caliber of investors and talent, putting them on par with the countries leading brokerages in just 3.5 years after founding.
Formerly View The Space, the VTS platform streamlines and expedites the commercial real estate leasing process through HD video tours, distribution of said tours, and reported analytics. Founded by Ryan Masiello, Nick Romito, and Karl Baum, the company has raised over $87M and is operating in 14 major markets.
Founded by James Roberts, Riggs, Kubiak, and Garrett Kubiak in 2011, is a web platform connecting professionals in the real estate construction and design space. It eliminates the pain of finding accurate building information, the costly process of finding quality professionals for new projects, and the difficulties of updating and marketing professional portfolios of work to win new business.
THE TRADITIONAL INVESTORS:
Investments include: Cadre, Compass, Hightower, Honest Buildings, 42Floors, and OpenDoor Labs.
Investments include: Hightower, Breather, Floored, TheSquareFoot, and Knockaway
Investments include: PeerStreet, Floored, Matterport, and OpenDoor Labs
Investments include: LoopNet, Nestio, VTS
Investments include: Hightower, 42Floors, Storefront, Nestio
THE STRATEGICS:
Real Estate Portfolio: Commercial
RE Tech Investments: Astro, Bizly, Compstack, Latch, Paintzen, Pillow, Super
Real Estate Portfolio: Multi-Family Residential, Development
RE Tech Investments: Compass, Latch, Paintzen, Roam
Real Estate Portfolio: Office, Retail, Multi-Family
RE Tech Investments: Notion, VTS, Latch, ResiModel, Fundrise, 42Floors, Compstak, Parkifi
Real Estate Portfolio: Residential, Commercial
RE Tech Investments: Latch, Super, Eight, Pillow, Paintzen
Real Estate Portfolio: Retail
RE Tech Investments: Deliv, Parkifi, Sensity, SkuIQ, Swirl,
THE INFRASTRUCTURE:
Though only one cohort in, the NYC-based accelerator founded by Aaron Block, Clelia Peters, and Zach Aarons has done an amazing job connecting all relevant stakeholders, including founders, investors, and decision makers. They provide early funding, space, a 22-week program focused on market penetration, and access to a deep network of advisors.
Longer (7 months) than a traditional accelerator, the Chicago-based accelerator often seeks to work with companies that are later stage, many of which have already raised Series A or B. They provide guidance, mentorship, and perhaps most importantly, customers.
A deeply connected organization that puts on a full-day conference in 5 cities (and growing). Attendees include high-level founders, investors, operators, and real estate owners/developers, all connecting around technology innovation.
We have some awesome internal initiatives revolving around the next phase of Real Estate innovation. We'd love to hear from you — whether you're a founder, investor, owner, or operator. Reach me at dgoldberg@corigin.com