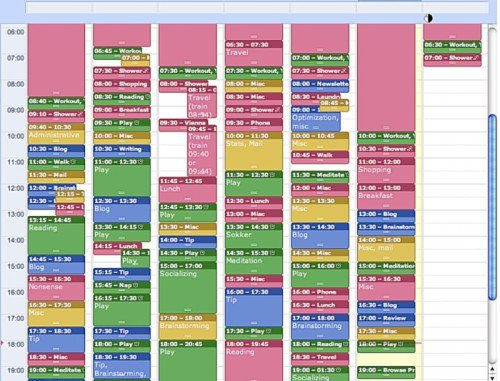 I've written in the past about The Many Hats a VC Wears, including Investor, Researcher, Networker, Beta Tester, Operator, Recruiter, Therapist, Salesman, Fundraiser, and Cheerleader. Recently I've been giving extra attention to how I spend my time, and making sure it aligns with my priorities. It's too easy in this industry to get distracted, go down rabbit holes, and 'feel productive,' so I've embarked on an exercise to start charting my time spent (I am already pretty good at laying out my quarterly priorities for myself and my team). In the spirit of transparency and giving some insight into the black box of what a VC does on a daily basis, here is how my calendar broke down over a 5 week period from late January through February: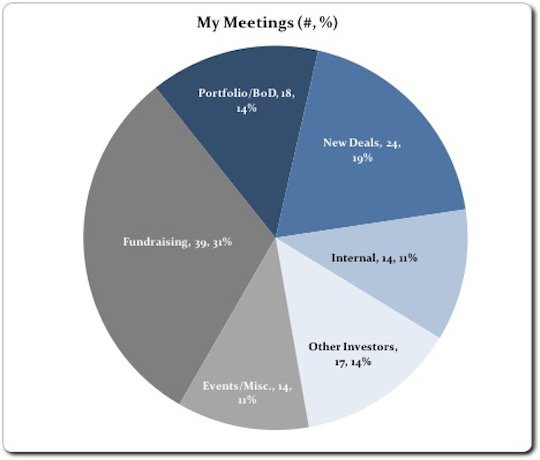 Some disclaimers:
This does not take into account hours, as (ironically) that would have taken a ton of time to calculate — all calls/meetings are created equally for this exercise.
Some meetings could go into separate buckets, so I chose best one (for example, an internal meeting to discuss a new deal in the pipeline.)
These meetings only include my time. You can imagine the actual hours that are involved when you consider all other attendees.
As fundraising was top priority, I passed almost all first new deal meetings to our Principal, Claire.
Takeaways:
This was a really helpful exercise. I estimated the results beforehand, and was somewhat surprised by the results. I meaningfully changed some behaviors and processes as a result, and I'll likely repeat every now and then.
It's key to set priorities, otherwise it's impossible to gauge effectiveness of time spent.
I take a LOT of calls/meetings. 126 over 5 weeks (5 per weekday). Probably too many, as it doesn't give me a lot of time to get some projects done, and limits free time for reading/learning.
Fundraising is a full-time job, and one really needs to decide what bucket(s) that time is going to come from.
I was happy to see that Fundraising was the leading bucket, as that was (unsurprisingly) my top priority for the quarter.
I was frustrated to see that New Deals came in second, as I made a conscious decision to move this down the priority list. While I didn't take too many first calls/meetings, it has become apparent that a ton of collective hours go into a deal that makes its way through the pipeline — for one deal that made it all the way through to Investment Committee (but we ultimately passed), I participated in 7 calls/meetings. Given how many other team members were involved at different points, its likely we collectively spent over 20 team hours on that deal.
I need to spend more time with founders. Not just on operations and admin stuff (Board work), but just human-to-human time, checking in on mental and emotional state.
Once we are done fundraising, and back into normal operations (if there is such a thing), I'll repeat the process.
Until then…I'd love to have some other investors mimic the exercise and share the results. Perhaps some founders can do the same.