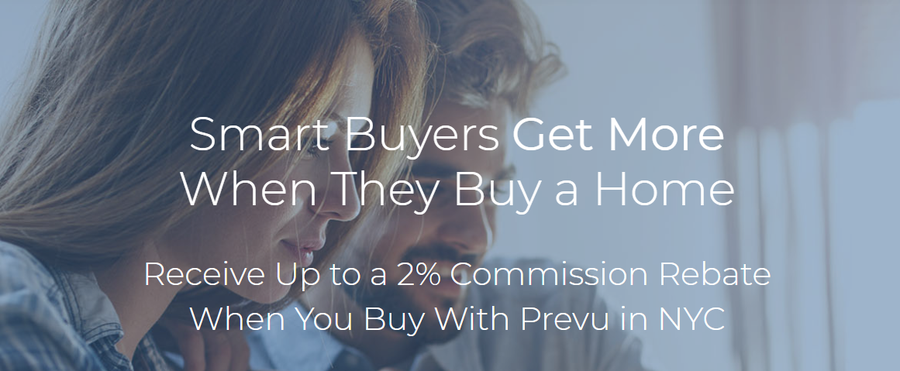 HQ
New York

Founders

Company Description
Prevu is a tech-enabled residential brokerage that provides buyers with a 2% commission rebate. They are a "friend in the early miles and expert in the last mile." Read their press release here.

The Problem
Residential real estate brokers still capture a ~6% commission on the purchase/sale of a home. Traditionally, the buyers' agent and the sellers' agent both receive 3%. However, over the past decade property information has been democratized. Consumers no longer need a broker to send them a curated list of properties, they can simply go online to a variety of websites and see the same information as their broker. While the brokers are providing less value, their hefty compensation remains the same.

The Solution
Prevu's solution is a customer-centric digital home buying platform that delivers industry-leading efficiency and savings. Buyers can search, explore, and schedule tours all via the company's Smart Buyer™ platform. This zero-pressure online experience delivers a smarter, more efficient way for homebuyers to transact. Whereas a traditional buyers' agent keeps the full 3 percent commission paid on a transaction, Prevu passes two-thirds of its commission back to each buyer who completes a purchase on the platform. This represents a significant cost savings to buyers, as customers who have used Prevu to purchase homes have received rebates of $23,000 on average.

Our Take
Ever since our seed investment in Compass (2012), our thesis has been that the 6% brokerage commission will get compressed. Especially on the buyer side of the equation, consumers are empowered now more than ever to take control into their own hands – especially when it comes to the "search and exploration" piece. Buyers no longer need to rely on brokers as the gatekeepers of property information, which is all available online. Prevu has built an amazing brand around working with 'smart buyers,' and these consumers are thrilled to be able to put 2 percent of their purchase back into their pockets. We're excited about partnering with Chase and Thomas and look forward to helping them build a very large business.