Over the past few months, the concept of Co-Living has started to hit mainstream media, and the conversation around what some are calling a "modern day commune," has drummed up both critics and fans. While thinking about the over 80M millennials living in the U.S. and the "millennial mindset" (which data shows prioritizes access over ownership and the city over the suburbs), I started to internalize my thoughts on The Future of Living.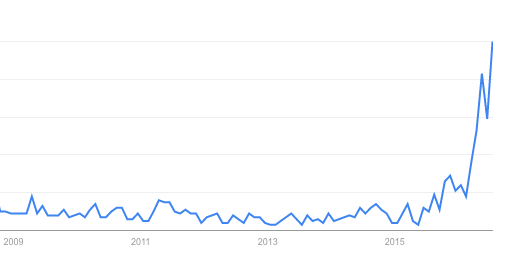 This will be the first piece of a multi-part series that outlines some of my thoughts, my peers' thoughts, as well as primary and secondary research. The pieces will include my personal experiences within Co-Living, the future of living for the transient millennial, trends and preferences of the urbanizing Millennial and more. Hope you enjoy it.
Part 1: A VCs WeLive Experience
In April of this year, the 6-year-old $16 billion co-working behemoth WeWork announced the launch of their co-living brand, WeLive. For a company whose inspiration came from an Israeli Kibbutz, the new product offering made total sense and was inevitably worth a test. The concept seems to have been kept quiet in beta testing for ~6 months before finally becoming available to the public. In short, WeWork describes WeLive as the following:
WeLive is a new way of living built upon community, flexibility, and a fundamental belief that we are only as good as the people we surround ourselves with. We know life is better when we are part of a community that believes in something larger than itself. From mailrooms and laundry rooms that double as bars and event spaces to communal kitchens, roof decks, and hot tubs, WeLive challenges traditional apartment living through physical spaces that foster meaningful relationships. Whether for a day, a week, a month, or a year, by joining WeLive — you'll be psyched to be alive.
Well, as a former WeWork tenant, a former resident at the Co-Living startup Krash and someone highly interested (both for personal and investment reasons) in The Future of Living, I decided to experience WeLive firsthand and moved into a studio apartment for the month of May. Thinking as both an investor and their target consumer, I've highlighted below where I think WeWork has hit the mark and where I think they're slightly off.
The Good
Turnkey — Simply put, WeLive does a great job with this one. One of the primary value props here is the ability to bring your clothes and you're all moved in. And they do a great job with that. WeLive provides residents with comfortable Brooklinen sheets, airplay enabled Bose surround sound, fresh towels, a gorgeous 40″+ flat screen TV with Verizon Fios cable, in-unit wifi and a basic set of dishes in each personal kitchen. As a nice touch they provide each new resident with a gift bag courtesy of Hudson Sutler that includes a Harry's Shaving Set, a bamboo toothbrush and a C.O. Bigelow Apothecary gift set. In addition, they leverage the same key card system for accessing the apartments that is used in the WeWork co-working spaces. The design of the unit maximized space with details including a murphy bed with storage, a well-designed kitchen and an open shower in the bathroom, which made my unit feel a little larger than it actually was at ~300 sq. ft*.
*The studio apartments on the hotel occupancy floors have the ability to be smaller than the ones on traditionally filed floors as explained below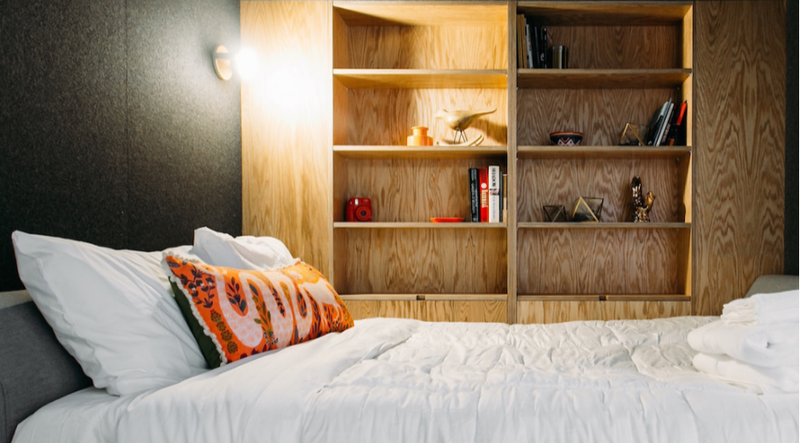 The Alcove Bed in the Studio plus Apartment. Photo Credit WeLive.com.

Example Kitchen Design. Photo Credit WeLive.com.
Flexibility — As Jeremy Schrage wrote in his LinkedIn post The "3Fs" of Co-Living, the flexibility here was a great perk and what made my experiment possible. Unlike most other apartments in NYC, I was able to sign a month-to-month lease and pay a slight premium because of hotel occupancy tax caused by regulations in NYC. WeWork had to charge this tax, but is able to provide this type of flexibility and more (like less than 30 day stays) thanks to some floors being filed essentially as a hotel. Because of this classification you can imagine WeLive renting rooms out by the night, which they're now doing, or giving residents the ability to stay at other WeLives around the country when they travel. I see a lot of value in this model, which is a big reason why we invested in Roam, but the intricacies of other real estate markets (both domestic and international) could make this difficult in some places. WeWork did a great job in NYC in getting things classified in the right manner and through some lobbying. Hopefully other difficult real estate markets will follow in the Big Apple's footsteps in understanding that the needs of city residents have changed.
The WeLive App — The app and technology could be a company on its own, and in fact, we've been pitched by multiple of them. As part of your stay at WeLive, you get access to a mobile app that acts as your resident portal and social network. What started out as an easy way to register guests, pay for laundry or request a cleaning, quickly became a highly-engaged community of users that were buzzing — i.e. posting various things, including: community events, questions, recommendations and more. To this day I'm still on the app and have been impressed with both the quality of the posts and the increasing level of engagement, which in my opinion, is a credible way to quantify the quality of their community.
WeLive Resident App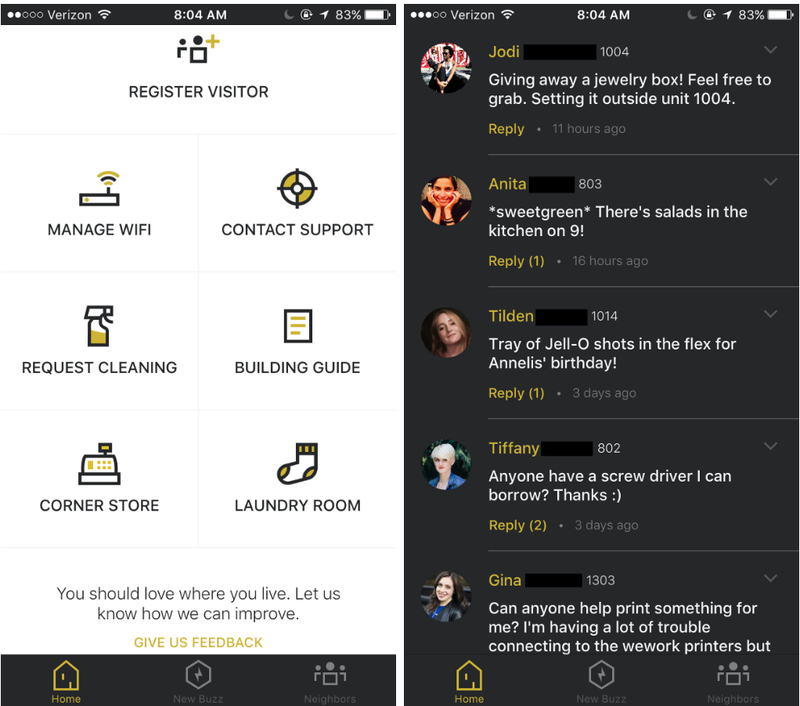 Parts of the home screen User Interface for the WeLive App and a good example of the diverse community posts
The Freebies — Much like the co-working spaces, WeLive delivers additional value here through a variety of "free" things. As is tradition, residents have 24/7 access to drip coffee, fruit infused water and free beer. However, the addition of a higher-end barista in the lobby providing me with Caffé Americanos or espresso in the morning, alongside an awesome high-energy demeanor, was actually one of my favorite parts there. Additionally, WeLive is doing a good job with product management and seemingly testing a variety of programming initiatives, including: family dinners (some catered and some you cook together), free fitness classes (which seem to be getting the most traction) and of course the obligatory GoT watch party.
The Common Spaces —So I'll start by saying that my core belief here, which 100% could be wrong, is that 110 Wall Street is ultimately a test/social experiment for future WeLive floor plans. Since not all the floors or common areas were open yet at the location (including the hot tub, terrace and upper floors), I'm sure the social dynamics and usage of spaces will change. However, the current structure and usage as I witnessed it is as follows:
Floor 7: Multi-Purpose Room — Doubles as a workout studio and event space/movie theatre with a projector. Outside of workout class hours or watch parties the space was fairly empty, but definitely served its purpose in generating additional value for the residents and made for an efficient use of common area square footage.
Floor 8: Laundry Room/Game Room — This room definitely got a lot of use. On the weekend it was filled with people playing pool, ping pong and arcade games, and drinking beer from the keg that was brought down from the 9th floor kitchen a couple weeks into my stay. The high-quality washing machines and dryers were great, although WeLive switched from free laundry to paid a couple weeks in. They did a great job with this space and made a boring room into a fun one, which appears to be a part of their ethos.
Floor 9: Large, Industrial Communal Kitchen and Seating — From family dinners to a place to work during the day, this floor seemed like the center of the action. The space accommodates 50+ people it appeared and is the best kitchen in the building, whether for hosting guests or just for cooking alone.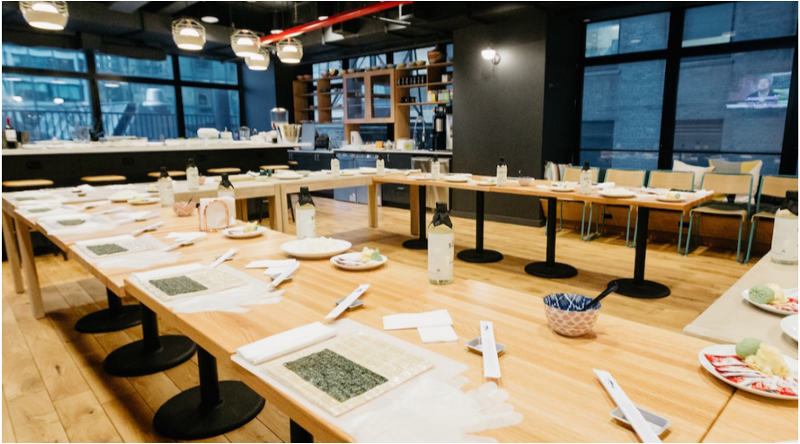 WeLive Communal Kitchen
Floor 10: The Bar — Rumor has it (according to other residents) that WeLive has plans to open up a bar that's open to the public in the basement, that then doubles as a mailroom. However, the bar on the 10th floor is a private one for residents and friends only, that is an intimate, well-designed space that was used regularly on the weekends. Having access to the surround sound at this space and all the other common areas made for a fantastic hosting experience, but I can't imagine that the rooms near it were thrilled with the noise levels.
The Neighborhood (Floor 13–15) — Along with the large communal spaces, my floor was connected to two other floors via an open stairwell. Although each individual unit has its own kitchen with a basic double induction burner, one of the floors had a larger full kitchen with the works (oven, microwave, dishwasher, etc.) and seating. This was my go-to kitchen for cooking meals as it was convenient and had more to offer than my own. Meanwhile, on the other floor in my neighborhood was a livingroom-like entertainment center with a massive TV and some couches. I personally loved this space, but never really saw it used.
I'm curious to see what WeLive does in terms of number of neighborhoods per building vs. large communal areas. The more common space there is, the more they'll have to charge for rent providing an interesting challenge they'll have to balance.
Where to Improve
The Price — WeLive isn't cheap, unfortunately. While the beta testers told me they were receiving a steep discount, the $1,700/person price that many articles are quoting appears to be for 2 people living in a studio+ that includes an alcove and a murphy bed in the living room. The pricing that was presented to me following the tours for non-beta users was as follows:
Studio — $3,125/month (~$8.98 sq. ft/mo. at 346 sq. ft for hotel occupancy floor) — looks like it starts at $2,745 now.
Studio+ — $3,400/month (~$7.82 sq. ft/mo. at 435 sq. ft)
1Br — $4,000/month
2Br- $5,550/month (~$7.84 sq. ft./mo. at 701 sq. ft)
3Br- $8,000/month (~$7.69 sq. ft/mo. at 1040 sq. ft)
4Br- $12,000/month
*All prices per square foot were calculated using the prices above and the blueprints from WeWork's filings in July 2014, but did not include common spaces in the calculation and may not be accurate
Now, since I was month to month, I had to pay a 15% hotel occupancy tax. Luckily WeLive gave me a 30% discount on rent as well.
However, one issue I see with this model is that many of the target users who match the brand profile are young professionals who are on tight budgets and comparing WeLive to other rental options. For comparison purposes you'll find the pricing of 95 Wall Street below, which is in the same neighborhood as WeLive. It's a beautiful amenitized doorman building, but they don't offer flexible leases or furnished apartments. The pricing is as follows:
Studio — $2,912 (~$6.28 sq. ft/mo. at 464 sq. ft)
1Br — $3,969/month (~$4.85 sq. ft/mo. at 818 sq. ft)
2Br- $5,461/month (~$5.08 sq. ft/mo. at 1,075 sq. ft)
What you'll notice between the two is what I perceive to be both the key to WeLive's success (and pitch to developers/landlords) and the difficulty in any Co-Living I've explored. For WeLive, they're able to generate more revenue per a square foot on the units, but they're also usually smaller. The hope here is that the building will generate not only a higher price per a square foot vs. before the WeLive brand and product are wrapped around it, but that the NOI (net operating income of the building) will be higher as well.
For consumers, 95 Wall Street is also a highly amenitized building, as you can tell from below. Therefore the pitch to WeLive residents and its core users must center around the value they're getting from flexibility and community. Is it enough? I don't know.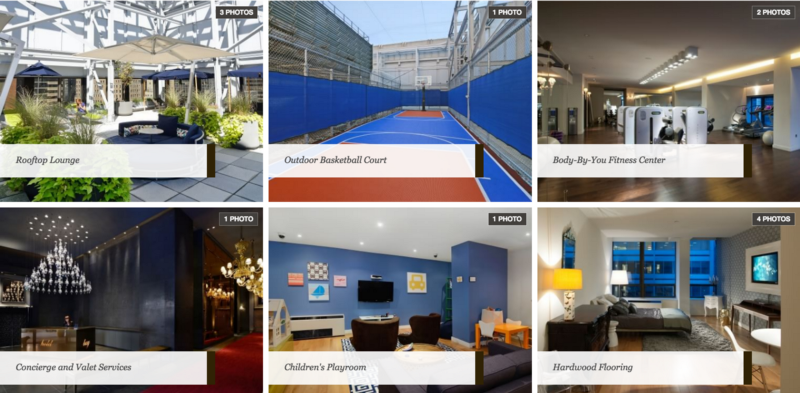 Amenities at 95 Wall StreetThe Divide — While the beta testers are good for stress testing the operations of the building and the use of the spaces, the majority of them that I spoke to won't be able to afford it once renewals come up. However, many of the residents that moved in at the same time as me were paying full price and enjoyed the product. The use cases were interesting. Some only planned to stay for a few months as a stop gap for renovations on their apartments, while others used it as their M-F apartment for work. Others loved it as a full-time option after just moving into town. With that said, the beta testers and new residents were different. Age, income and reason for living there were all different, but ironically enough, I think it was the new residents that were leveraging the community programming more and were deriving more value from the product, which is generally a good thing for WeLive.
The Lease Process — Many argue that WeWork is a tech company and I 100% believe that they will fix the leasing process problem. However, the signing process with WeLive wasn't any better than with my other landlords in Manhattan. I still had to print out the lease, sign it and send it back. I had to print out an ACH form and send it back. Ultimately, I expected a better user experience for this part of the process, but didn't get it. Real-time unit availability for the "residential" floors also is not available yet on the WeLive site and it seemed like some of the tech running the operational side of things was still in the early phases. I'm guessing/confident that will be taken care of soon.
The Details — WeLive finished opening the new resident floors literally the night before we moved in. I give the company a ton of credit for an aggressive growth strategy and being able to operate a massive 20+ story building as their first project. However, little things like my TV not being connected to my remote, my rent payment and security deposit not being pulled until I already moved out, the lack of transparency into room availability on the site and the elevators going down multiple times will need to be fixed. I trust that WeLive will fix these, but this was an interruption in an otherwise pleasant experience.
Overall I liked WeLive, but didn't love it. I truly do believe in the idea of turnkey flexible lease living, but the overwhelming sentiment I walked away with is that the price is too high, especially for the Financial District, but a customer base definitely exists. To me, it's the customer that appreciates the value of what I would say is somewhat of a luxury product in a new real estate asset class (hybrid between hospitality and apartments). It's a brand game and the pitch of community and convenience that you need to align with. For some I think that will definitely be the case, while for others it will not.
Either way I'm excited to see what WeWork does with the WeLive product and think that plenty of others will pop up in the space going after different customer segments.