Today marks the last day of my 3 month MBA internship at Corigin. I came into this wondering how my Wharton MBA and Penn Masters in Engineering would apply. It immediately became clear to me. I have always had a passion for Smart Building technology and am currently studying it in my engineering program. As a result, I looked into smart buildings in the commercial space. Below are the results of my deeper dive.
Over the previous 12 weeks, I found that smart HVAC (heating, ventilation and air conditioning) systems are the components found within a smart building that possess the greatest potential benefits as an entry use case in commercial real estate, as they are attractive to all stakeholders.
What
Building Automation Systems (BASs) enable commercial property managers to improve occupant experience, enable preventative maintenance and reduce operating costs. They include "smart" systems for lighting, temperature, movement (escalators / elevators), physical security, alarms, etc.
Key trends are comprised of regulation at all levels for environmental sustainability, more buildings being update-ready, cloud computing / big data infrastructure and multi-site, scalable solutions (see more at bottom). The market size is ~$7B, growing to ~$17B by 2019 (Source: IDC Energy Research), however, only 20–30% of buildings in developed markets are "smart-technology ready." HVAC and lighting are two areas that contain technology ready to incorporate into smart buildings and companies see benefits to making these upgrades.
The image below, provided by Memoori, displays all the key functional areas that smart buildings manage. As you can see, there are many different functions of the building and a business that will be affected by the introduction of smart technology. Based on the image, there are two highlights worth noting:
The intersection of energy management and lighting (orange lines and purple lines) provides one area of significant potential energy savings.
Building services, shown by the red line on the left side of the image, includes HVAC and has the potential to create the most cost savings and produce the best working environment.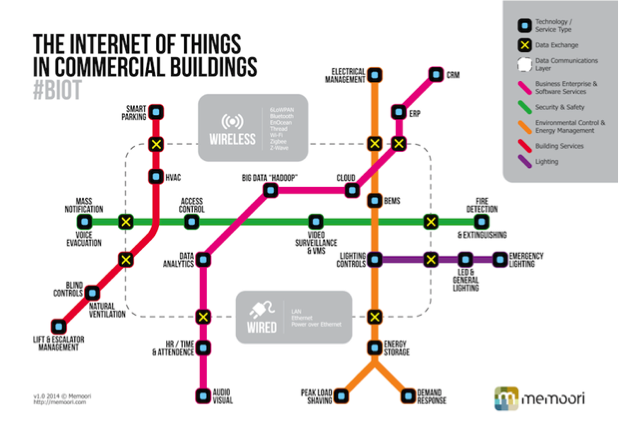 To truly capture the maximum value from a smart building, a company needs to have all parts functioning together and providing data for better overall management of the property.
Who
Major stakeholders include customers interested in potential installations, new construction projects and retrofitting projects.
1) Commercial builders / developers — these systems have the potential to add value to a property that ends up for sale to a company or property manager
2) Property managers — large managers, such as Tishman Speyer, will be interested in this technology because of the overall savings they would be able to capture from large building energy savings and the higher rents they would get in their buildings from constant climate control and greater productivity. With higher willingness to pay, property managers will be able to increase gross sales, while also reducing energy costs on the backend
3) Companies with their own buildings — smart systems reduce costs and can add value to a property that ends up for sale to a company or property manager
4) Commercial building tenants — this technology will lower their energy bill and increase worker productivity, increasing worker happiness and employee retention. The property managers would be willing to listen at the time of re-negotiating a lease because commercial leases are generally more long-term, often lasting 10 to 20 years
5) Government / government agencies — government grants are available for initiatives that promote smarter use of energy management. Taking this a step farther, this industry should target the government to retrofit systems in government buildings and future builds to provide more successful cases proving the technology and benefits. Government buildings represent a significant portion of all buildings across the country and provide a mission in-line with the goals of the government
Lighting
Overall, the market for LED lighting has been steadily increasing and reached 31% market penetration of the $82.1B global lighting market in 2015. According to MarketWatch, the architectural segment is the second-largest end-user segment for LED lighting, which is a positive market shift for smart lighting technologies. When looking at the global market, LEDinside reported that Europe is the largest geographic market (23%), followed by China (21%) and the United States (19%). When looking specifically at global networked lighting controls, revenue is expected to grow by $2.2B in 2015 and $4.8B in 2024.
Incumbent and Startup:
Royal Philips — one of the largest electronics companies in the world. Philips is making strides to compete in the smart lighting race with several new products, including its Hue light bulb, which launched summer 2015.[1] Hue lightbulbs can be used with existing sockets and are operated by users via a wireless bridge and a mobile app, essentially eliminating the need for light switches.[2]
Sengled — startup producing intelligent lighting products. Sengled's primary competitive differentiator is the fact that many of their lighting products are multi-functional: one doubles as a speaker, while another includes an embedded wi-fi repeater and another offers a built-in webcam, speaker and microphone.[3]
HVAC
The market is expected to grow with a compounded annual growth rate of 10.8% by 2022. Up to 30% of commercial building total costs are from HVAC alone..
Incumbent and Startup:
Honeywell — recognized as one of the leaders in the development of HVAC control systems. Honeywell's main value proposition offered to its customers is to increase occupant comfort and safety, improved energy efficiency, and provide data for more informed business decisions.[5] Major incumbent along with several other large companies focused on making smart cities, such as GE and Emerson.
Building Robotics — based in Oakland, CA, it has been funded by several investors to further its development of personalized temperature controls at each person's workstation. This technology would allow each worker to set the ideal temperature for greater productivity — one person can keep the air at 65 degrees and another 73. This system builds on the value proposition offered by smart HVAC systems; fostering more productive employees, greater operational efficiency, and higher energy savings.
How
When thinking of attracting customers in this segment, shown in the images below, it is apparent that the selling point needs to be built around health, indoor environment, and a decrease in operating costs. Based on this information, it would be wise to focus on the ability of smart commercial buildings to create a good working environment.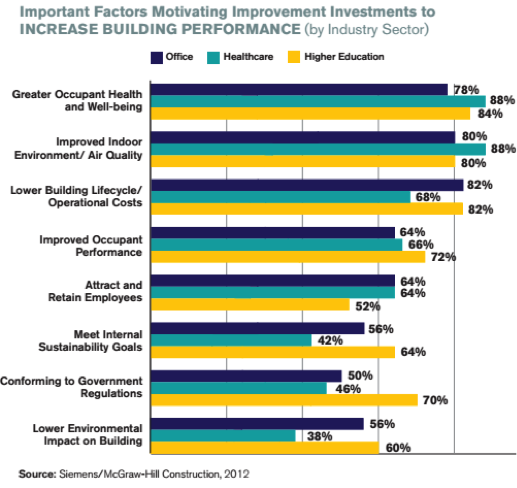 Smart commercial buildings could potentially use the environment control for tenants as the use-case to help speed up the adoption rate. According to a presentation by Zonoff, which is focused on smart homes, creating a platform around offering more security has been very successful in gaining traction into the residential marketplace. This is the entry use-case that is projected to speed up adoption of smart homes because people are very concerned over the protection of their home and most important assets.[8]
In a similar design, there are currently two interesting opportunities for entry use-cases in commercial buildings; lighting and HVAC. We focus on the top two because we think they are the largest opportunities and each of these candidates is the cause of significant recent investment in building improvements, as displayed by the graph below. Also, each of these functional areas already has the available technology to make an immediate impact for tenants and property managers. Furthermore, smart lighting and HVAC are the best candidates to create substantial savings in energy costs for the building, as presented by the chart below. Much of the value created by making these two functions "smarter" is the creation of the ideal working environment; highlighting the true value proposition for smart buildings.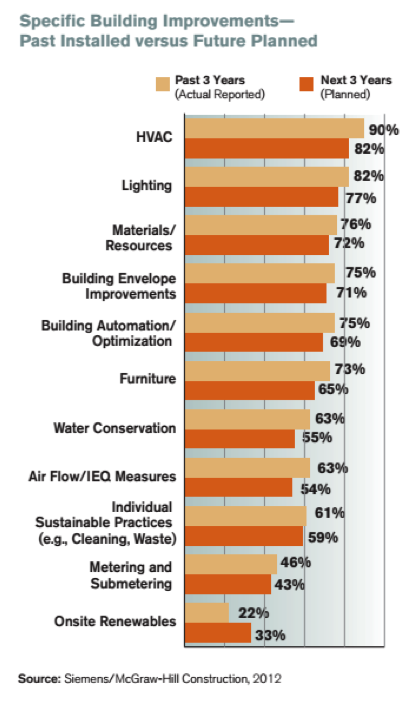 Because of their overall potential impact on the market, I explored both technologies: lighting and HVAC, to determine which, if any, could serve as the potential entry use-case into commercial buildings.

Entry Use-Case
To gain access to this industry, companies are focused most heavily on two key areas of interest, energy management and lighting, as these technologies currently exist and provide tangible benefits to the users of the buildings.
Lighting — despite its technology and benefits, this technology is unlikely to be a catalyst for change. Property owners generate very little benefit from making this change. Without a unified gain from all stakeholders, lighting is not best suited to be the entry use-case application on a stand-alone basis
HVAC — should be the most crucial component for energy management systems. It is very clear how the government and companies (tenants) will benefit from this change. For property managers, according to SenseWare, making the HVAC change and creating an efficient building will immediately increase the value of property, allow the property manager to rent at higher rates, and provide an opportunity to sell the building for an even higher price upon exit. Smart HVAC systems are the components found within a smart building that possess the greatest potential benefits that will be attractive to all stakeholders.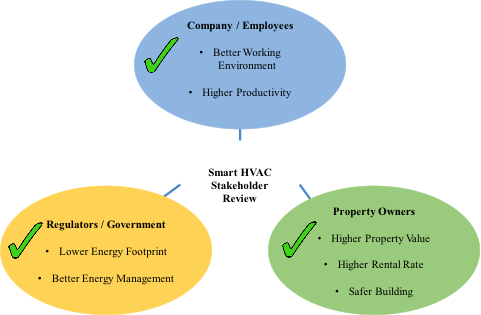 Takeaway
Smart HVAC systems seem to provide a true "win-win-win" scenario that has a higher likelihood of resonating with all parties at the table. In a similar capacity to smart homes, in which the focus on security has aided a quicker adoption curve, smart buildings need to focus on the tangible benefits from smart HVAC to help speed up adoption of smart building technology.
The benefits of this model are clear: better energy management for regulators and government, lower energy bills and higher worker productivity for tenants, and higher property values and higher rents for property managers/owners. Maintaining focus on selling the technology with these value propositions in mind will help advance the world, one building at a time.
Clearly this is a hot vertical with a lot of large investments but there has only been marginal market penetration and there is significant room for improvement.