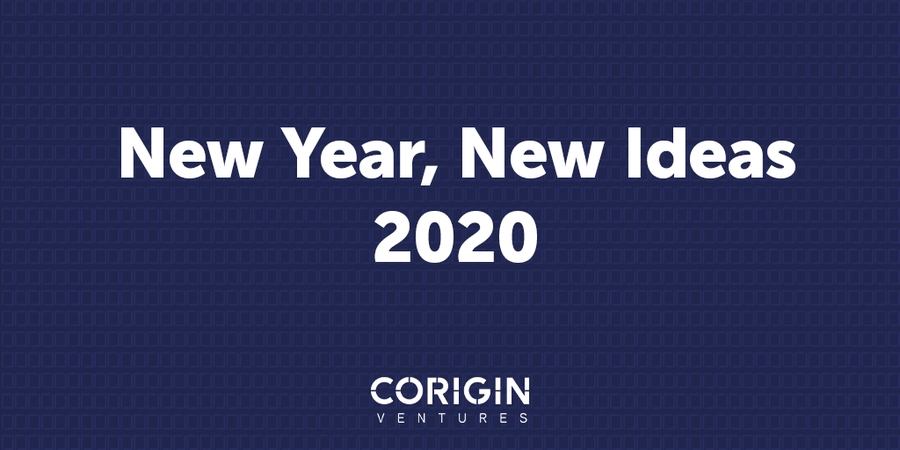 Happy New Year! The last two weeks of the year are always my favorite because you get to unplug without the guilt (and intimidation) of what your inbox will look like upon your return. In addition to spending time with family and friends, I like to take a step back and acknowledge accomplishments from the prior year and think strategically about the year to come. For me, this strategic thought includes listing out my personal and professional goals as well as thinking about areas that interest me.
Taking a page out of David Goldberg's book (2019 New Year, New Ideas), I thought I'd write a brief post discussing a handful of themes that I'm excited about in 2020.
Anything disrupting RE Capital Markets:
I've always been passionate about Finance & Capital Markets – the trading of assets fascinates me, and I believe that more transparent, liquid and efficient markets are better for all stakeholders. When you look at Real Estate specifically, I think most would agree that the industry lags substantially compared to other asset classes. In the past I've published research around Real Estate Crowdfunding (see 2018 Landscape here) as well as Real Estate Tokenization (see 2019 piece here).
This year I'm interested in digging into CRE Investment Sales & Debt Brokerage. Some quick 2018 macro stats to digest:
Total Value of US CRE Assets: ~$16T
Annual % of US CRE Assets Traded: ~2.5%
US CRE Transaction Volume: ~$394B
Global CRE Transaction Volume: ~$733B
In both spaces (Debt Brokerage & Investment Sales) we're starting to see a crop of early stage companies building interesting platforms with varying business models. If you're a Seed stage company tackling the Real Estate Capital Markets, I'd love to chat.
Intersection of ConTech & FinTech:
In 2019 we spent a ton of time in Construction Tech, see the research and findings that we published here. As the son of a third generation Builder/Developer, I grew up on the jobsite and have watched this industry SLOWLY begin to adopt technology. The macro statistics around Construction as a percentage of GDP and the tiny (relatively speaking) amount of capital invested in technology is mind blowing: Construction accounts for 13% of worldwide GDP ($10T annual spend), and there has only been ~$5B invested in the sector since 2009.
The same way PropTech used to be a sub-sector of FinTech and today PropTech is its own category, the same will happen with Construction Tech. Today, ConTech is a sub-sector of PropTech but in a few years I PROMISE you it will be its own behemoth of a category.
Within Construction Technology, I'm particularly interested in the intersection of ConTech & FinTech. We've already seen a handful of companies build robust platforms for construction lending (i.e. Built Technologies & Rabbet) procurement and bidding (i.e. Honest Buildings) and payments (i.e. Levelset). Given the sheer size of the industry and the amount of capital flowing through it, I'm interested in speaking with anyone building companies that they believe will make the industry more capital efficient and financially savvy.
B2RE2C (Business-to-Real Estate-to-Consumer):
I can't take credit for coining this term, props to @David Goldberg for the clever acronym. B2RE2C is something we've talked about a lot internally. Given our team's unique, combined expertise of both Real Estate & Consumer, we find that many of our PropTech investments are both PropTech plays as well as Consumer plays. What we also find a lot are companies using "Real Estate-as-a-platform" to sell into the end-consumer. Some examples of our portfolio companies that do this:
Teams I'm excited about:
Founder-Market-Fit is something that we talk about a lot at CV. Why does this founder have an unfair advantage to tackle this specific market? We don't believe that all founders begin their journey from the same starting block – what about their background, skillset or network gives them a head start?
When it comes to Real Estate & Construction Technology, my thesis has been that industry expertise is crucial. Given that these are old-school industries, "gentle disruption" can be a more effective strategy. And in order to gently disrupt an industry, you typically need a network and relationships in the market that you're going after.
We decided to put this hypothesis to the test and look at the data for the 40 Most Valuable Real Estate & Construction Technology companies. Here is what we found:
60% of these companies had "founder-market-fit"
40% did not
Of the 40% that did not, the vast majority were serial entrepreneurs or seasoned engineers
Founder-market-fit was defined as at least one founder came from a Real Estate, PropTech, and/or ConTech background
So yes, a "fresh perspective" from an industry outsider is always helpful and allows you to view things with a clean palate. If the founder is an industry outsider with experience launching and scaling a venture-backed startup then you fall within the 40%. However, within PropTech I'd still personally rather bet on the founding team with category expertise. I'm also wanting to back visionaries and great storytellers – and so hopefully that founder can recruit a highly talented industry outsider to join his or her team.
The founding teams that I am most excited about are the teams that not only bring the category expertise but also have the technology know-how and sophistication to build a robust, game-changing platform. Demand for quality tech talent continues to get more and more competitive and while the outsourced dev-shop works fine in the early days, the sooner you can buildout your tech team the better positioned you'll be for the long term. Consistency and institutional knowledge of the code base can save months if you hit a snag.
Technology-enabled brokerages:
1) Technology-enabled brokerages and 2) marketplace companies are two very similar business models that we feel very comfortable with as a firm. While I focus exclusively on PropTech, we as a team are interested in companies building Technology-enabled brokerages (or marketplaces) in any industry in which intermediaries are charging a substantial percentage of the transaction, however, the value they are delivering is mostly relationship-based. We're interested in any company building a technology layer over an antiquated industry and allowing supply and demand to discover one another and transact more efficiently. We also are interested in startups building tools that allow brokers to become more efficient and productive.
Other themes and markets: co-buying, intersection of PropTech & InsurTech, concepts that can be easily tested/piloted in a multi-family residential portfolio.
Feel free to reach out at dfetner@corigin.com and @daniel_fetner