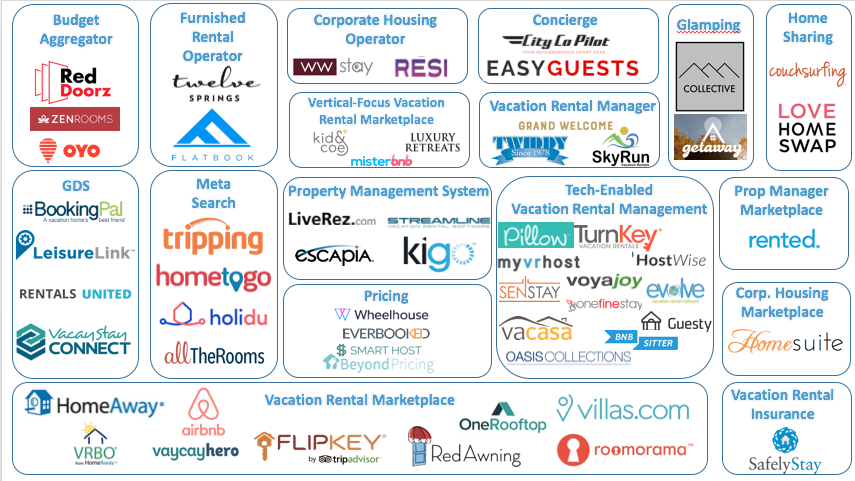 For Part 3 of the Future of Living Series, some VC peers and I decided to dive into the $550B+ vacation and short term rental market. From traditional disruption to companies using AirBnB as a platform for launching their own new businesses, we identified over 60 companies looking to have an impact on the Future of Living in vacation/short-term rental markets. While we could've added dozens more, it was our goal to outline these new models for you, the up and coming players, plus the big dogs in each space.
The Vacation and Short-Term Rental Market Map
Budget Accommodations Aggregator — OYO ($187.65M raised, India-based), RedDoorz ($1.4M raised, Singapore-based) and ZenRooms (Rocket Internet Backed, Singapore-based) are all online aggregators that connect users with the best hotels for their budget. The key to this model is something that OYO appears to have brought to market first, which is standardizing the properties (standards of service, features, staff training and dress, pricing, security requirements, etc.) to solve the problem of predictability for these low-cost options.
Concierge — From basic key management to turnover service, these are the players that are making your life easier as an AirBnB host. City CoPilot goes as far as having a storefront in NYC where you can put your luggage for storage. Unlike the tech-enabled property managers written about later on, the startups in this category tend to have additional layers of concierge service like booking a car or a Broadway show.
Corporate Housing Marketplace — With a $10M Series A round raised in August 2015 from Bessemer, Battery and Foundation Capital, HomeSuite has positioned itself as one of, if not the leading corporate housing marketplaces (a.k.a. fully furnished homes and apartments) for short-term rentals (30+ days).
Corporate Housing Operator — SF based Resi and India based WWstay are two examples of the asset-heavy model in corporate housing, which although it has its perks, is not a business that a lot VCs have looked to play in.
Furnished Rental Operator — Short-term and vacation rentals. Companies like Twelve Springs are owning the full-stack and reaping the benefits of having the real estate asset. FlatBook on the other hand may offer landlords a master lease and bet on their ability to fill the space with great upside potential. Often times you'll see these types of companies raise two pools of capital. One for the operating company itself and a second to help them acquire the real estate assets.
GDS (Global Distribution System)— Think the ZipRecruiter for vacation rentals. These global distribution systems (Booking Pal, LeisureLink, Rentals United and VaycayStay Connect) shoot your listing out to all of the major sites and help you manage them.
Glamping — Glamour + Camping = Glamping. Former Starwood and Tough Mudder exec (and my summer camp counselor growing up) Peter Mack recently launched Collective Retreats in Aspen, which caters to those looking for a breathtaking, high-end camping experience. Meanwhile, on the East Coast, HBS grad Jon Staff has hopped onto the tiny house movement and launched Getaway.House which provides consumers with a great getaway from the hectic city life. Both of these companies have unique models that take advantage of moveable units, enabling them to capture seasonal demand and other benefits.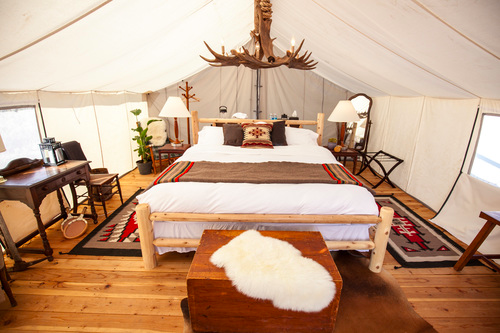 Home Sharing — With Love Home Swap users exchange homes with one of their 95,000+ members. As for CouchSurfing, a company around since 2004, the openminded adventurer gets free stays at someone else's house. The former charges a monthly fee to use the service, but the latter serves users ads, in exchange for a free service.
Meta Search — Think Kayak for vacation rentals. Tripping, HomeToGo, Holidu and AllTheRooms are battling it out as they scrape other sites for their best inventory.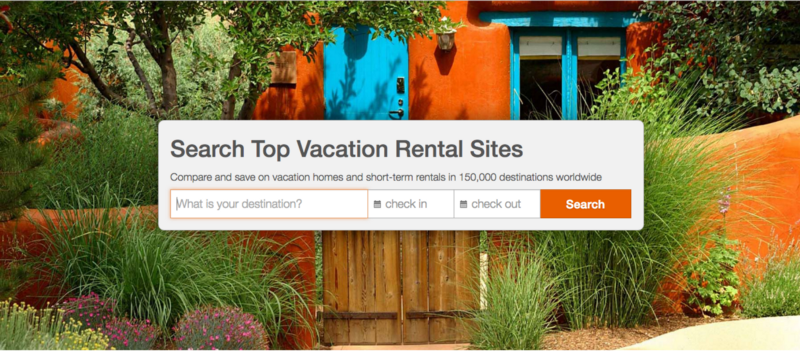 Pricing System — Talk about nerding out over data. Companies like Wheelhouse (f.k.a. Price Method), EverBooked, Beyond Pricing and Smart Host have all created dynamic pricing engines for hosts that analyze tons of data points to best optimize your pricing and overall listing. Flush with data, but a difficult customer acquisition strategy, I could envision the majority of these players shifting into a model where they can capture more upside.

Property Manager Marketplace — Rented.com provides owners/investors with a way to get guaranteed or commission-based income by connecting them to a long list of property managers via their marketplace.
Vacation Rental PMS (Property Management System)— While traditional real estate companies are dealing with some brutal legacy property management software (e.g. Yardi, MRI, RealPage, Entrada), startups popped up to try and cater specifically to the vacation rental market (Escapia, Kigo,LiveRez, Streamline) which has plenty of investors in it with large portfolios. From channel distribution to revenue management, these companies are making the experience easier for those who eventually want their listings up on a variety of the vacation rental sites. With acquisitions in the space already occurring a few years back (Kigo by RealPage in 2014 and Escapia by Homeway in 2010) not too many players are left standing on their own.
Tech-Enabled Rental Management — This space has the most amount going on right now. While some just handle the property management component (e.g. Pillow, Guesty, Voyajoy, MyVRHost, Evolve Vacation Rentals, BnBSitter, Hostwise), others (Vacasa, Oasis Collections, SenStay, OneFineStay) have layered a consumer facing marketplace on top to capture more margin and build a brand that represents consistency and quality. Distribution models also differentiate since some of these players go direct-to-consumer, while others have focused on building products that better support corporate real estate clients/investors.

Time Share Marketplaces — Remember that phone call we used to get once a week offering us a free stay at some hotel in return for taking a look at buying a time share? Well, for those that actually ended up buying one,Vacatia allows owners to list their unused resort residences for rent and then adds in additional services: helping acquire the customers and handling the customer service.
Vacation Rental Insurance — Remember those LifeLock Identity Theft Protection commercials where Todd Davis, the CEO used to give out his social security number on national TV and then he preached about how they provided you with a $1M insurance policy? Well SafelyStay provides guest verifications (e.g. background checks) and up to $1M in liability and property coverage insurance. Not quite the same as LifeLocks promise, but who could forget those commercials (or the fact that his identity got stolen 13 times)?
Vacation Rental Manager — Grand Welcome, Twiddy and SkyRun are all sizable time-weathered companies that are professional property managers. Similar to the Vacasa's of the world, these companies offer a slew of services like the following: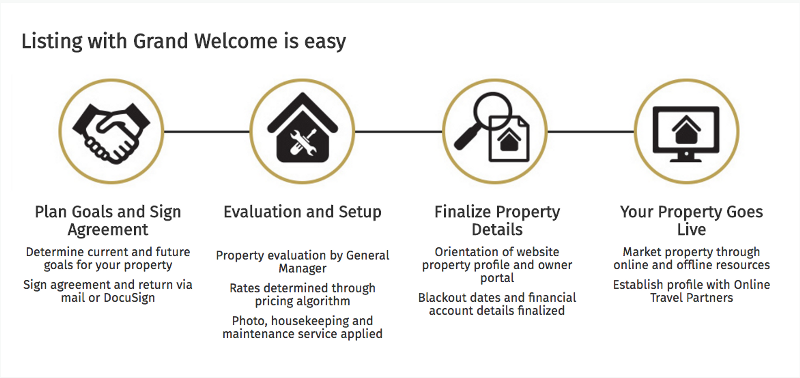 Vacation Rental Marketplace — You know the deal. AirBnB, VRBO,HomeAway, FlipKey, Villas.com, Roomorama, RedAwningand OneRoofTopare some of the players looking to connect people directly with one another via an online marketplace to handle rentals.
Vertical-Focus Vacation Rental Marketplace — Luxury Retreats caters to the high-end market, Kid & Coe. looks to curate the best kid-friendly spots and Misterb&b is targeting the gay travel community. Generally speaking each one of these companies is looking to win with a well defined brand in a massive target market.
A lot is going on right now in the vacation rental and short-term living space. With a lot of competition heating up it wouldn't shock me to see consolidation in many of these categories where players are popping up all over the world and looking to dominate one region before moving onto the next. As we enter into a time period where Millennials are traveling more and show a greater willingness to try new technologies, it's creating the perfect storm for companies in this space to thrive.
I owe a huge thank you to Weston Reynolds over at Greycroft and some other friends who helped me put together the list of companies, as well as talking through the various models. If you want to talk vacation rentals or short term housing hit one of us up.
Weston Reynolds Twitter — @Weston_Reynolds
My Twitter — @BoatShuman (p.s. if anyone knows someone who can help me get the inactive @JasonShuman account on twitter hit me up ;))
The Future of Living Part 1: A VCs WeLive Experience